Elise & Dan, Owner-Operators of Sebastiano's
Sebastiano's is the creation of husband and wife team Dan & Elise Gold. Forged in the fires of a global pandemic - Dan & Elise signed the lease on their property one month prior to the Covid 19 pandemic and opened at its height in June 2020 - they feel eternally grateful to all their customers who've supported Sebastiano's along the way.
Elise was born in New Jersey to an Irish-Sicilian family in Hunterdon County. Early formative memories include making cuccidati cookies with all her mom, aunts and cousins at Christmas time. Elise's great-grandmother emigrated from Castellemmare di Golfo in 1912 and settled in New Jersey where she raised 6 children as a single mom, speaking no English, after her husband was killed in a foundry accident. She made fresh cheeses to sell and kept a garden and chickens to feed her family.
Dan was born in Northern California and grew up in the East Bay in the 1990s, a time where slow food and farmers markets were abundant, and tech had yet to transform the Bay. Early childhood food memories include making fresh jams with his grandma and rocking dutch babies on the weekends with fruit cocktail and powdered sugar. Dan also made a mean chocolate bundt cake from the Ghiradelli Chocolate Company cookbook. 
Dan & Elise met at the Culinary Institute of America in St. Helena, CA and moved to Portland together in 2008. After many years in and out of the food and beverage industry, the inspiration for Sebastiano's came after a life-changing trip to Sicily in 2019.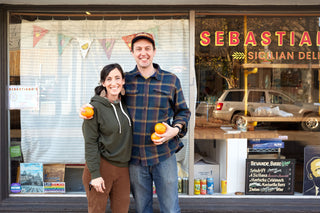 Thank you for reading about us.
We look forward to feeding you soon!